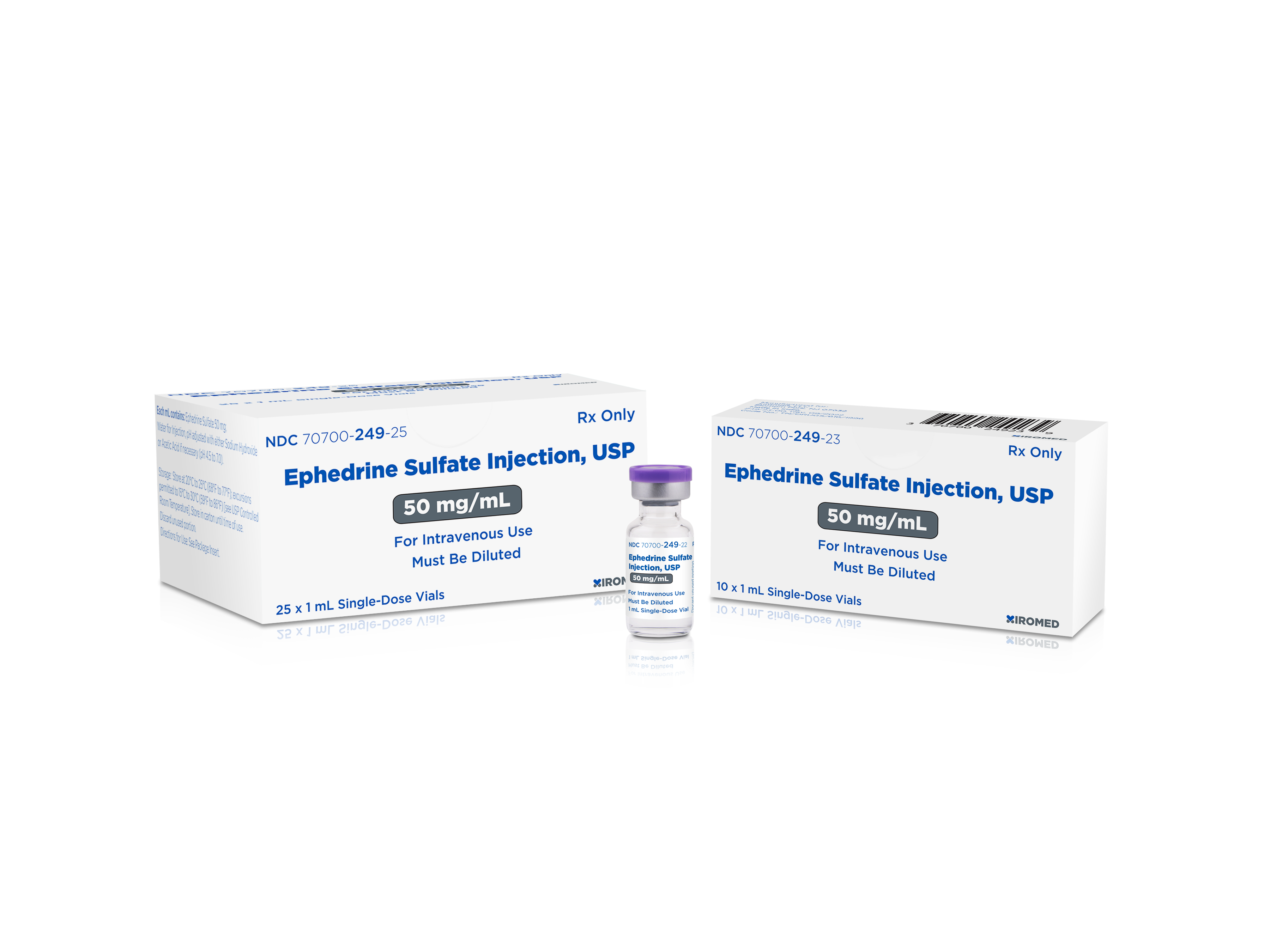 Xiromed LLC Launches Ephedrine Sulfate Injection USP, 50 mg/mL
Press Release
Florham Park, NJ, July 17th, 2023
Xiromed LLC today announced the launch of Ephedrine Sulfate Injection USP, 50 mg/mL, generic to Akovaz® in conjunction with its development partner, Aggrega Pharma.
Ephedrine Sulfate Injection is an alpha- and beta-adrenergic agonist and a norepinephrine-releasing agent that is indicated for the treatment of clinically important hypotension occurring in the setting of anesthesia. Annual market sales for Akovaz® and its generics for the twelve-month period ending May, 2023 were $49.6 million, according to IQVIA™.
Rob Spina, CEO of Xiromed commented, "I am pleased to announce the launch of Ephedrine Sulfate Injection in partnership with Aggrega Pharma. This launch further bolsters Xiromed's injectable portfolio and demonstrates our commitment to bringing quality, affordable generic options to the market for US patients."
"We are excited to cooperate with Xiromed and launch another Aggrega portfolio product. Xiromed is a strong partner to make ephedrine sulphate injection a successful product in the US generic market," said Sergio Simoes, Board Chair of Aggrega Pharma, LLC.
Xiromed LLC, located in Florham Park, NJ, is the US generic division of Insud Pharma, S.L., a global pharmaceutical group headquartered in Madrid, Spain. Xiromed is focused on developing and commercializing high quality generic pharmaceutical products for the US market. In addition to its commercial portfolio of generics available in the US, Xiromed has a robust development portfolio of generic pharmaceutical products in various stages of development, including injectable, inhalation and complex generic products. Learn more at http://www.xiromed.com/usa/ Aggrega Pharma, LLC. is a first-class pharmaceutical company developing, manufacturing and marketing generic medications (injectable, ophthalmic, oral and topical finished dosage forms). The shareholders are 4 European companies: Bluepharma, Rafarm, Substipharm and Welding. Aggrega Pharma is committed to building a pipeline of complex and selected generic products by leveraging the vast R&D, clinical and manufacturing experience and capabilities of its members. Learn more at www.aggregapharma.com