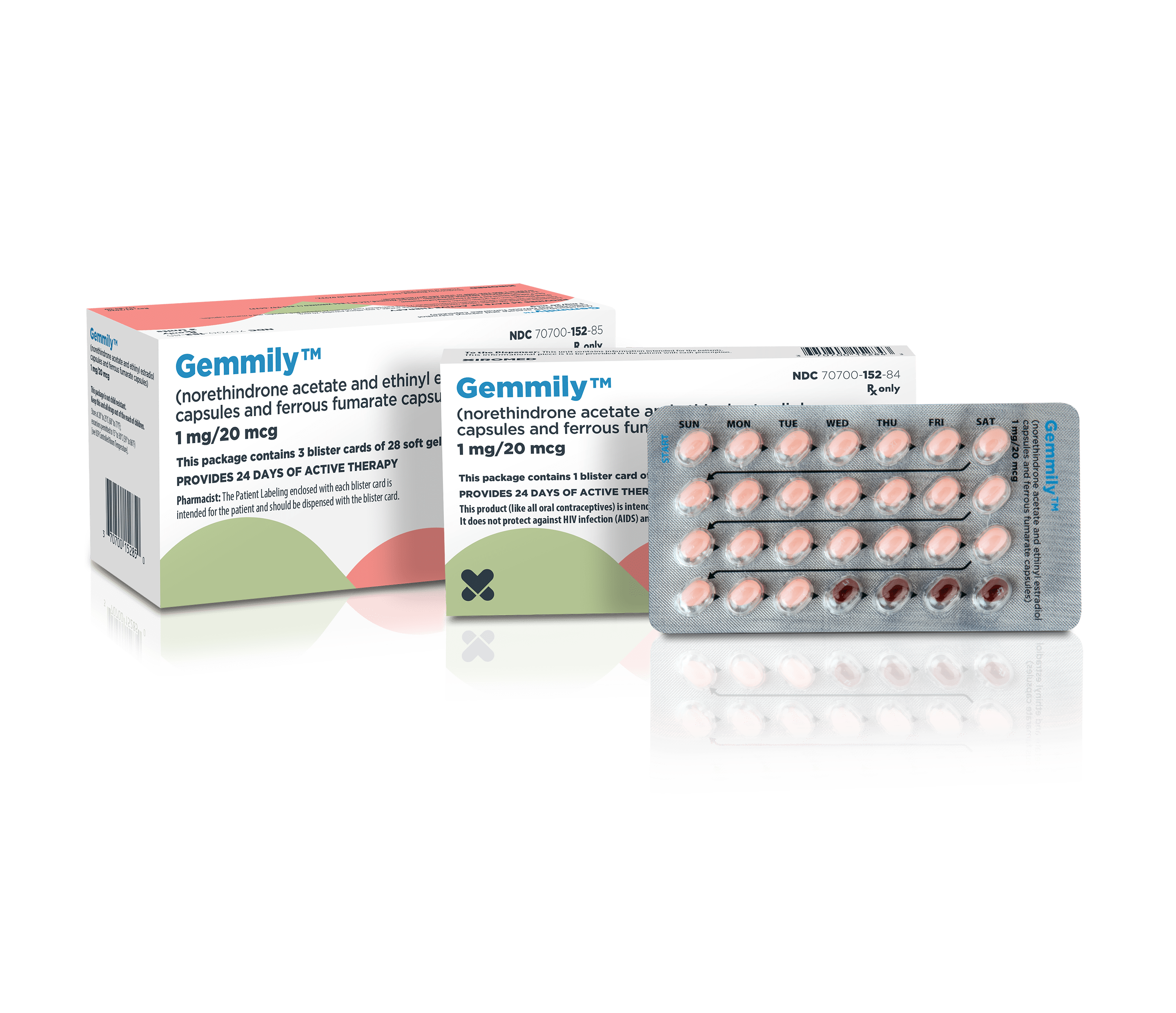 Gemmily® (Norethindrone Acetate and Ethinyl Estradiol Capsules)
Available Sizes | NDC
70700-152-85|3 x 28 Pack
Learn More about Gemmily®
Product Details
Gemmily® (Norethindrone Acetate and Ethinyl Estradiol Capsules)
Case Qty (min. order qty)
Store at 20° to 25º C (68° to 77º F); excursions permitted to 15 to 30º C (59 to 86º F) [see USP Controlled Room Temperature].
Each blister card contains 24 pale pink capsules and 4 maroon non-hormonal placebo capsules.
Each blister card contains 28 capsules. 24 oval, opaque, pale pink (active) soft gelatin capsules with "XI" printed on the outer shell in white and 4 oval, opaque, maroon, (non-hormonal placebo) capsules imprinted with "LF" on one side.
The product does not contain gluten, or any ingredients derived from the gluten containing grains. However, the product is not certified as gluten free.
Order Gemmily® Softgel Capsules Today!
Available in the following counts:
Amerisource Bergen
Cardinal Health
McKesson
Morris & Dickson
1 mg/20 mcg - 3 x 28 Pack
702781
5684741
1553155
919860
1 mg/20 mcg - 3 x 28 Pack
702781
1 mg/20 mcg - 3 x 28 Pack
5684741
1 mg/20 mcg - 3 x 28 Pack
1553155
1 mg/20 mcg - 3 x 28 Pack
919860
Pharmacology – Medical inquiry/complaint
If you are experiencing a medical emergency, please contact your health care provider. To speak with a medical information professional about your medical question, to report an adverse event or side effect, or concerns about the quality of a Xiromed product, call 844-XIROMED (844-947-6633) or contact us.